PF_Feeder handles your contraptions.

Contraptions to feed must be out on farm.
If you don't see correct info, run bot a cycle to update (no need to set any plugin to run), then refresh the plugin page.
You can either tick Guano x Times OR Refill only, not both!
1) Guano-Feed Contraptions
Example Settings:


a) Set number to feed x Times
b) Tick Run Plugin
c) Save Settings
Then start Bot (green button)
This will feed your Ball Gagged Big Pig 20x. If disable is not ticked, on next cycle it will feed another 20x. If you don't want to feed several cycles, stop bot after cycle is done (red button) or tick disable, so you don't need to watch it and can stop later or let other plugins be running.
Example of a working log: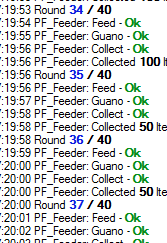 Also can set an amount of Munchies to keep in the second Tab, plugin will only use munchies until this limit.
The plugin allows to do easy stats on contraptions, since it adds up your munchie outcomes and shows the totals in bot log:Find older bot logs in your C: drive >> facebot_Extreme >> PotFarm >> PotFarm-Logs
It is safe to set a higher number than you have munchies in stash. Plugin will always check stash and reduce number of feeds if you don't have enough products.
Attention: Mystic Door
The Mystic Door errors now and then if it is fed normally. It is recommended to always tick Mystic Door Wait Mode to avoid that:

Bot will still feed the number of times set in Guano x Times Column, but will not use Guano. If you want to feed any faster, guano-feed the Mystic Door ingame with an Autoclicker.
2) Refill Contraptions

If this box is checked, guano will not be used, bot will just check every cycle if your Ball Gagged Pig is ready, and refill if it is.
Additional Options:
Show In/Output Columns: This just shows some more info on what a contraption needs and gives. Tick and save settings. Normally you will want to hide these columns to have a cleaner Interface.
Pro Tipp: Set Order of Contraptions to feed (only for Guano x Times)
First Clear all Settings
Fill in a Number of Times, do not save settings yet
Then tick the boxes in column "Guano x Times" in the order you want them to be guanoed (only click once)
Last click save settings ONCE – you should see Contraptions set in the order you ticked their boxes