"RS_Settings is the brain plugin" (Nena) 

– providing all basic settings to run the engine.
---
Basic Info
Engine version, debug and pause (not working for RS!):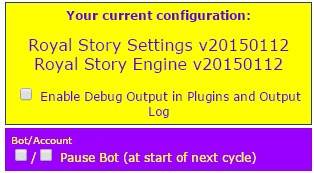 Leave all boxes unchecked except you know what you're doing.
---
Plugins
Enable (= run) and disable (= don't run) plugins: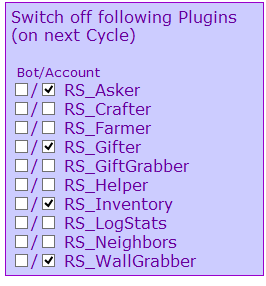 Checked plugins will not run, all unchecked plugins will.
If you miss plugins, go to Bot Menu: View – Plugins, doubleclick RS_Updater to open it. Then install all further plugins via RS_Updater.
---
General Settings

Timezone: Set it to your timezone to get proper date in logs.
Secure Browsing: Most likely needs to be checked, since the game only works with secure browsing (https).
Output Logs: Choose after which time botlogs are deleted.
Logs are saved in folder: C: – facebot_Extreme – RoyalStory – RoyalStory-Logs.
DateFormat: Do not touch.
---
Loot/Reward Chance and Bot Speed:

Update: Loot/Reward Chance option does NOT work any longer, so just leave it at Default!
Bot Speed: Leave at 13, no need to change!
---
Accounts and Proxy Settings
Accounts are added – just like for FV engine – in the central bot account settings. Go to fBX Menu >> View >> Accounts: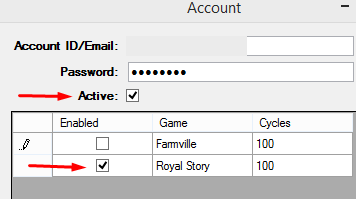 Activate/enable account and Royal Story. In RS_Settings your accounts will show like this: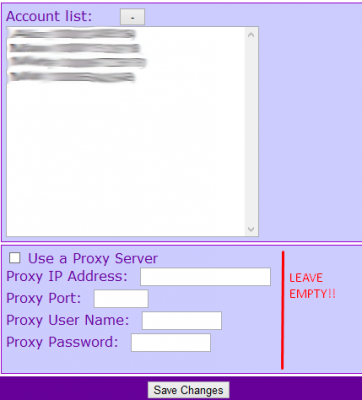 Mark an account and click the minus (-) to remove it.
Proxy Settings: Leave empty except you know exactly what you are doing!