18/9
Alot are using cleaner when unneeded or the wrong option and causing yourself more issues then you should be having.
Let the cycle complete if you get FV-Engine: Oh Sh1t! Zynga stepped in it – Don't worry, Pooper Scooper to the Rescue!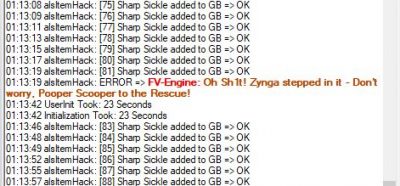 This means z server is bad and the engine workaround is cleaning the mess so bot can continue working (dont stop it) some plugs will do rest work others may stop depending on how coded to handle the error but u'll have less corrupt files from stopping.
FUBAR: Farmville Engine failed to initialize is your farm failing to load check if it will in the browser, at this time you all are aware how bad the game is so just  retry
File Exit discard layout then FV_Cleaner data tools and Verify Data make sure this completes & run a cycle to fix most data errors.
Only use Rebuild if missing names in plugs or farms in wrong order this is unneeded 99% of the time.
Please review   FV_Cleaner
READ your logs 99% of the time they tell you what went wrong this why we ask for a FULL log not just 2-3 lines alot post and make sure all permissions are set correctly so databases are able work correct.
UPDATE 16/9
Please update FV_Engine/Settings to 20190916
Changes have been made so if encounter an error plugins will try to continue work and not crash.
If the developer of your plugins that are erroring didn't code their plugins properly for error handling u will need watch for the plugin to have an update from dev who maintains it , most should at this time handle it especially base/supported 1s eg farmer/crafter/tools etc
We are continuing to monitor this and hoping Z servers improve soon
15/9
Since recent enhances users have being experiencing issues with the following error
FV-Engine: 28 Client has a newer version than backend
A change has been made to the engine so please update and see if it improves it should also help with the "false" enhances some got.
We advice to make sure in FV_Settings – Advanced that the Disable Pause Between AMF Calls is unchecked.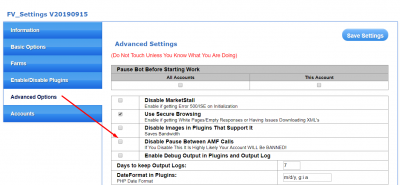 We have noticed some plugins will cause the error more then others
FV_Itemlinks,GlitchAnimals & alsitemhack are currently the main 1s still having the error so if u choose use these 3 expect errors in cycle ran with these and possibly also the next 1.
There is no 100% fix at this time as is on Z server side we are fully aware and monitoring.
We appreciate feedback on this and it helps us find "workarounds" to help make bot run better so if u find anything let us know by commenting on group posts on this error try not to make a new post use the 1 already being provided by the Admins or Team or pop by chat and leave a message  even if no reply we will see it.
Hopefully Z will sort their side soon and we'll be back to normal 🙂