If you have botversion 3.0.3.6 you need to upgrade your bot by downloading and running fBX Updater (need to do this one time only).
Current Bot Version is faceBot Extreme 3.0.3.800
If you already upgraded to 3.0.3.750 or later versions you should have Update fBX showing in your bot menu:

Click on it, then close bot, upgrade and done.
Only if you still have an old bot (3.0.3.6) and NO Update fBX in menu showing proceed with following steps:

faceBot Extreme Updater
>>>> For the updater to work you NEED to have Version 3.0.3.6 before!
For updating even older bots (3.0.3.2, 3.0.3.4 etc.) please use basic install version. Do NOT uninstall your old bot before, just install first install version over it.

If you already installed basic install version 3.0.3.800 from here NO need to download the updater – it is already included!
---
Here are the steps you must take to have a successful upgrade:
1. Download the above file, named fBX_Updater-1.0.0.6.zip
2. Extract this file to your faceBot_Extreme folder – NOT YOUR FARMVILLE FOLDER!!!!
Hint: If you don't know how to extract a file, just rightclick the file, choose "Extract to…" then choose your faceBot_Extreme folder.
3. Exit out of faceBot and ALL Satellites.
4.

Disable your Antivirus/Malware Scanners, etc. if you can.
Even better: Set exceptions for whole faceBot_Extreme folder so you don't run into problems in the future! Google how to do that in your Antivirus or look at Tutorials here for most common!
5. Now run the program "fBX_Updater" from your faceBot_Extreme folder: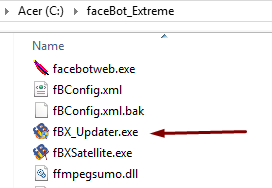 It may ask for administrator privileges, say yes.
6. Now you should be able to just click update. If you get a warning about faceBot or Satellites not being closed, make sure you have actually closed them all and also check task manager. If you don't know how to do that, just reboot the computer and then run fBX_Updater.
If your bot does NOT open after you update, most likely the updater did not detect Visual C++ 2012 properly, don't worry though. Just download and run this file http://updates.facebot.org/radical3/vcredist_x86_2013.exe and then your bot should work just fine.
If after following all the instructions, it doesn't work feel free to come to chat http://www.facebot.org/irc and we would be glad to help you get it working.
Thanks!
Rad
---
Further Bot Updates
Once you have Version 3.0.3.750 or later ALL further bot updates can just be done via Bot Menu >> Update fBX:

You will see 'Update fBX' turning red once an update is available, so you can not miss any!
Once you click, the updater opens: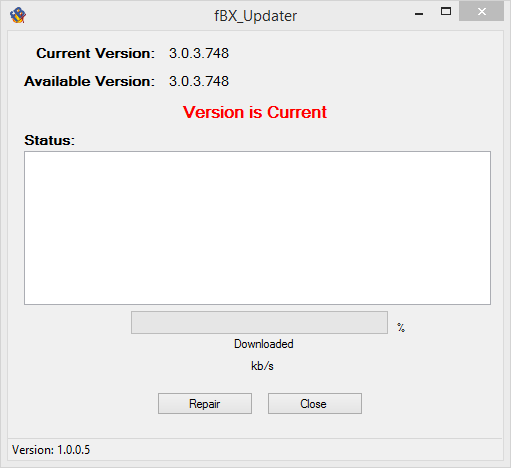 If your version is not current, hit update. A popup will ask you to (stop bot) and exit, do so, then proceed with updating your bot.
If you run into problems, remember to stop your Antivirus while updating. Once the update is done, turn it on again. Better: Set exceptions for the whole facebot Extreme folder in your Antivirus, then you don't need to bother with that again.