Royal Story Engine by RadicalLinux
Plugin Tutorials



RS_Asker: Ask your neighbors for items you need. Tutorial
RS_Cleaner: Rebuilds databases. Only use if you got the major problems mentioned in the plug! Tutorial
RS_Crafter: Handle machines, craft recipes etc. Tutorial
RS_Farmer: Plant/harvest crops, harvest buildings, animals, trees … Tutorial
RS_Fishing: Automatically fishes on all open pages, completes orders, crafts bait. Tutorial
RS_Gifter: Send daily free gifts to your neighbors. Tutorial
RS_GiftGrabber: Accept gifts and help from neighbors. Tutorial
RS_Helper: Various tasks, add energy, magic, handle beehive, kill & catch minions etc. Tutorial
RS_Inventory: Manage items in inventory. Tutorial
RS_LogStats: Show basic stats in log. Tutorial
RS_Neighbors: Visit neighbors, help and do tasks on their kingdoms. Tutorial
RS_QuestManager: Information about current and upcoming quest stages. Tutorial
RS_Settings: Activate/deactivate plugins, change Royal Story settings. Tutorial
RS_Stats: Show detailed info about your kingdom. Tutorial
RS_Updater: Get/update plugins and engine. Tutorial
Latest News and Fixes

Never uninstall bot to fix problems or to upgrade! Problems are solved otherwise, uninstalling will do nothing to fix them. Upgrades will always overwrite the existing botinstall, which is fine.
All Erros: First go to RS_Updater plugin and make sure you got the newest engine and all plugin updates done. Then run a cycle and see if it is fixed!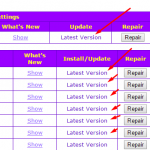 1) Error: Failed to find Royal Story Hash Url
If all is updated and this error occurs, follow these steps:
Go to your C: drive then faceBot_Extreme - RoyalStory folder.
Search for the files with _fbcookie in their name and delete them. There should be 2 per account, one with email, one with FBID.
Then it will work.
This is needed to do ONCE only.
Screenshot:


2) Error: malformed / Can not find settings file
If you get this error: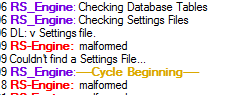 Goto Menu – View – Engine Installer. Reinstall RS_Engine and it will all work again. Screenshot How To: http://prntscr.com/8ka5sj
3) For other errors see General Troubleshooting