If you already installed bot, here are First Steps on how to get Royal Story Engine and Plugins.
Important for new users:
You need to play at least the royal story tutorial (with your browser) before you can use fBX. You need to have the game in all accounts in same language. (Look here on how to switch language).
If you run faceBot YOUR GAME MUST BE CLOSED in browser. You can either play the game with your browser or with faceBot at a time.
---
First Run Royal Story
1) Install Royal Story Engine
First of all check Engine Installer so you get the Royal Story engine.
Go to fBX Menu >> View >> Engine Installer: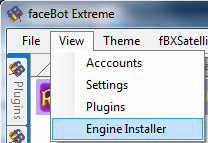 This is what you see, highlight Royal Story Engine and hit Install Engine: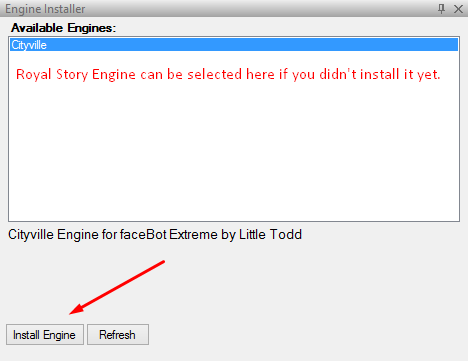 Engine is not there to install? You already have the game installed, go to next step.
---
 2) Set Accounts to run Royal Story
Goto fBX Menu >> View >> Acounts >> Highlight Account, then hit Edit Account.
Make sure you set ALL accounts you want to run Royal Story Engine as shown here: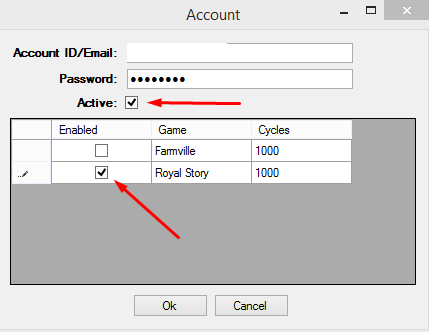 If you are new to bot find more details on setting accounts in general download & setup tutorial.
---
3) Open plugins overview
After engine installation open Plugins tab (fbx Menu >> View >> Plugins):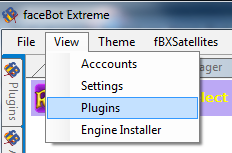 Choose Royal Story in Dropdown: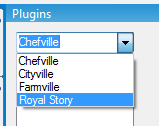 ---
4) Update Engine and install Plugins
Doubleclick RS_Updater:


 On the upcoming RS_Updater-page you find an overview over all available plugins and your version of Engine/Settings.
Make sure you have newest version of RS_Updater, if not, update RS_Updater first.
Next update engine/settings, then install all plugins you need.
---
5) Setting up RS_Settings and other Plugins
Now you can start telling faceBot what to do in your game by setting up plugins, best learn them one by one.
Start with RS_Settings where you turn all other plugins on and off.
Then setup the plugins you want to use, see other Tutorials for this.
Errors in Bot or Engine? Check Troubleshooting – Most common issues.
---
Support/Help – Chat
If errors can't be solved by tutorials or troubleshooting please visit: http://www.facebot.org/irc/
Then join one or more channels:
#faceBot – Help for Bot in general
#fBX-RoyalStory – Help specifically for Royal Story
#freeloaders – Help for whatever you like including probs with pets, bills or family