This plugin will generate links for small cans of fuel. You may also collect links from a dummy for yourself.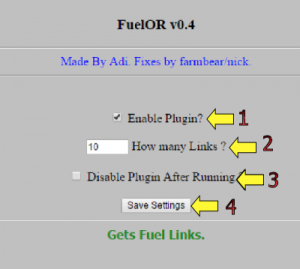 Click on Enable Plugin
Enter the number of links you would like. ***Please note that any links over 100 will be expired.
Click on Disable Plugin After Running
Click on Save Settings.
To enable this plugin in FV_Settings:
1. Click on Enable/Disable Plugins
2. Uncheck FuelOr
3. Uncheck FV_Links
4. Click on Save Settings
Example of working log:

Example of FV_Links: