What does this Plugin do?
Move items from farm to buildings, from buildings to farm, from building to building or from and to storage.
If your farm is huge it can take some time to load. Wait until it loads before you start to input settings (it will show nothing in popup if you try to set it too soon)
FVBM lists all your buildings, so you can move items to and from that building. Building Category overview: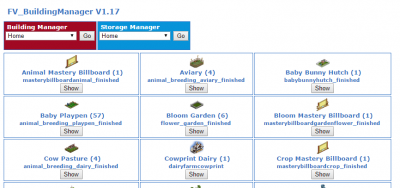 First choose the farm you want: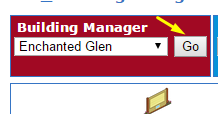 Then hit Show to see all Buildings of a Type on this farm.
Hit Begin Configuration to get the option to edit your buildings:

Hit Edit and a pop window will open that building to edit: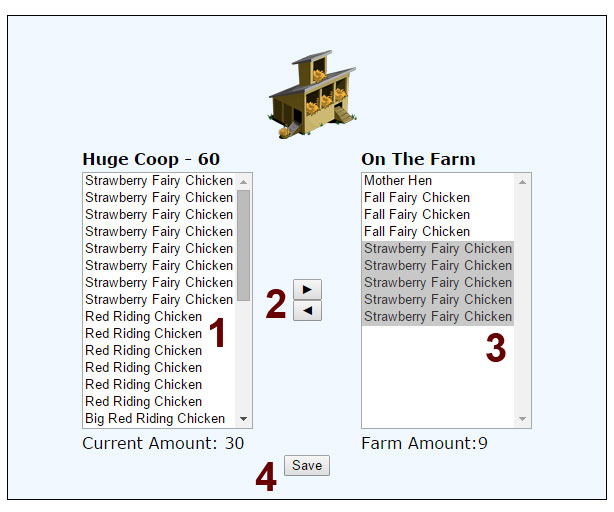 1 – Items inside that building
2 – Send:

from building to farm OR

from farm to building
3 – Items on farm
4 – Do not forget to Save
How to select items?
To select one item just click it so it gets highlighted
To select several following items: Select the first one, press Shift on your keyboard and select the last one
To select random items: select one, press Ctrl key and select the other items, all with Ctrl pressed
After you selected the items hit send arrows (2) to put them to farm/building and save. Items will be listed in Final Contents:

Use check configuration to make sure that your settings are good.

A popup will show you if Configuration will succeed: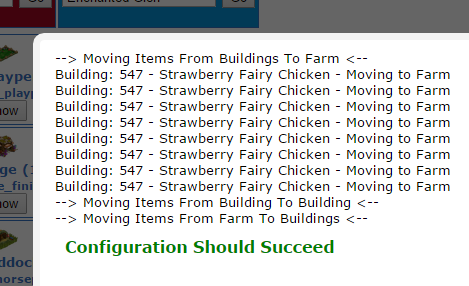 ---
Last Step: Click on Finish Configuration once all is done – this will submit your settings to be done at next cycle(s):

---
To reset your selections use Don't Run/Throw Out Changes:
---
Move Items between Buildings (works with locked animals/items as well!)
FV_BuildingManager is able to move your items to other buildings in one take. Just set up one building to move them to farm, first, then set up your second building to place them from farm into this.
Only after second building is also setup run the plugin, it will place all animals/items directly to the other building, skipping the step to place on farm.
---

FV_BuildingManager Dutch Tutorial