The links for sharing rewards on fbX from FV_Links.

 the links may be obtained in three forms –
i) on Notepad (both short or long links)
ii) on TinyEdit (which does not need notepad – both short or long links)
iii) exported via web page
OR they can be shared on the Virtual Wall

 the export of the links can be done from either tab 1 or tab 2.
for both, the items may be exported, previewed, or deleted ALTOGETHER, or individually, depending on whether we export, preview or delete them from the "all links" tab or the respective tabs of individual category.
---
TAB 1 categorises links by their "type", i.e, all trees together, under ConstructionBuildingFriendReward, or all playpen babies together, under animal_breeding_playpen_finishedFriendReward etc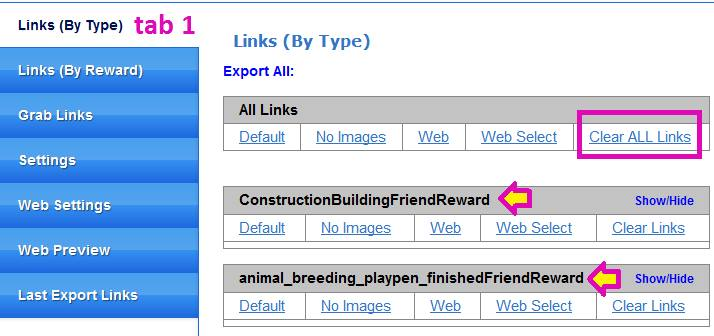 ---
TAB 2 categorises links by their individual reward names, like specific names of trees, animals (eg cherry tree, baby emperor penguin) etc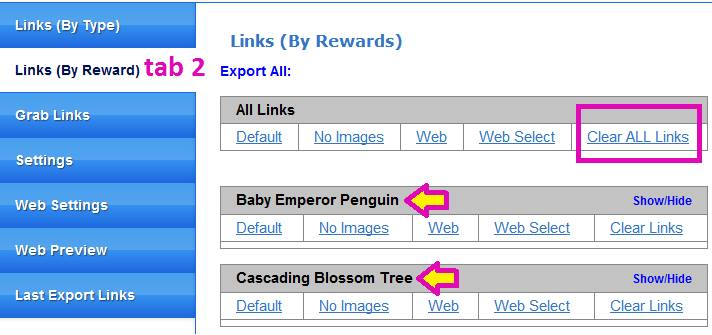 for both tabs 1 and 2,
— "default" means normal export of links,
— "no images" means reward links will be exported without corresponding image links
— "web" means link to export of rewards on web page
— "web select" means option from where we choose the rewards individually, exactly which rewards we need exported on web page
— "clear links" means we delete those links.

 the master option 'clear ALL links' will be deleting ALL links of that account
---
TAB 3 is 'grab links', which can collect links generated on other accounts in the account on which it is run.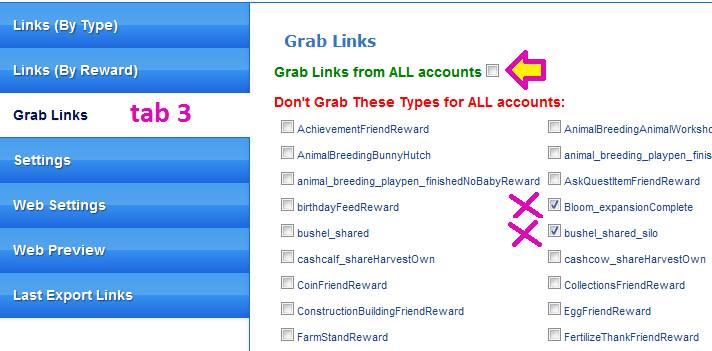 We can either grab ALL links, or choose which NOT to grab. the items of the list that we marked will not be grabbed
also, we can grab links either from ALL accounts, or from individual (chosen) accounts

the UNmarked links get grabbed from the source to the recipient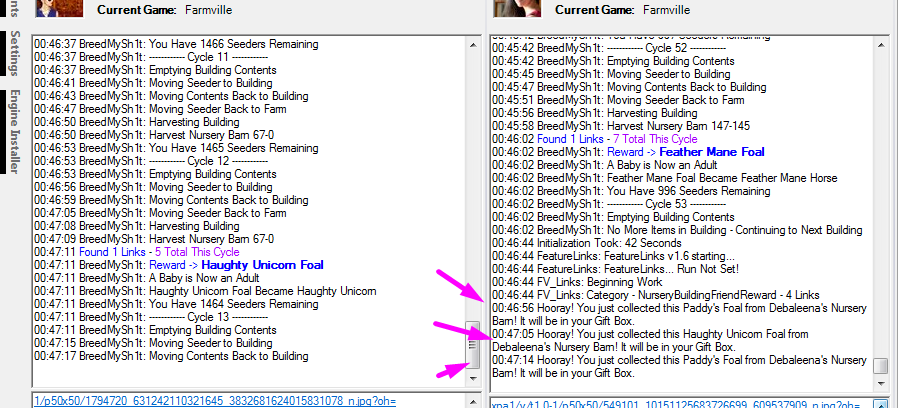 ---
TAB 4 is 'settings' for options like using notepad independent non-web page export of links, use of short URLs using HotLinkz, and specifying what how we wish to format the non-web page links to be, following the instructed codes like [link] [break] etc.
we can edit the duration after which old links will be deleted from the 'expire links after' option.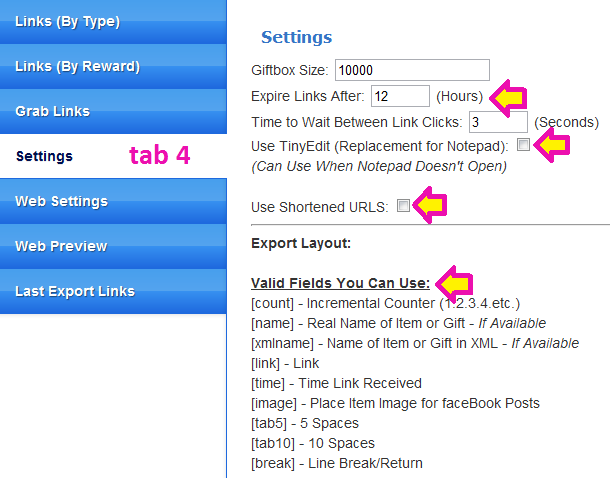 ---
TAB 5 is for putting the codes of web page design of web export based on HTML and CSS designing [ref: Advanced Tutorial of fv links]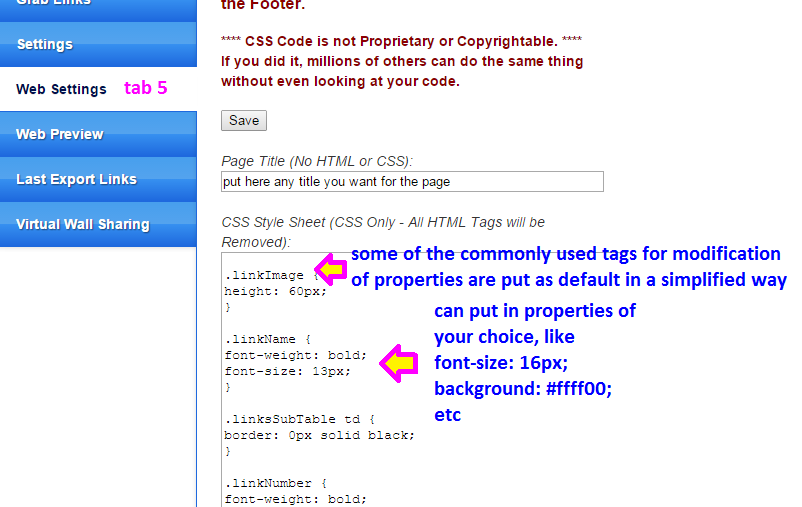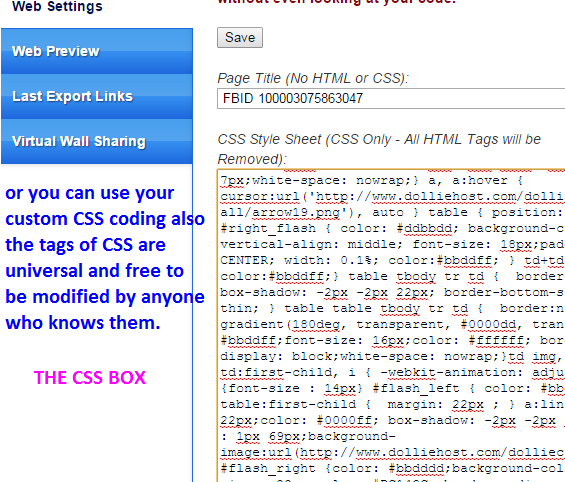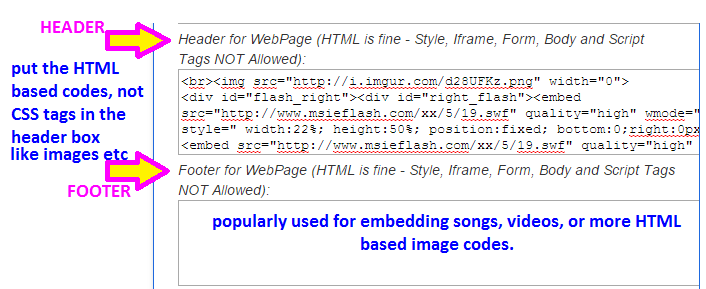 ---
TAB 6 is 'web preview' which enables us to preview the page of export with the designing given, we can see the simulation without actually exporting any link.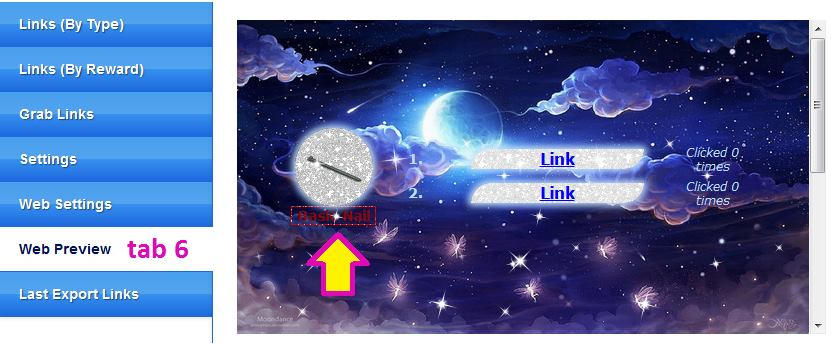 for 'preview' a couple of items are hardcoded for displaying as sample of how page will look with reward exported.
it does not affect the actual reward, which gets correctly exported from either tabs 1 and 2.
---
TAB 7 is a record of the last 20 links of export rewards.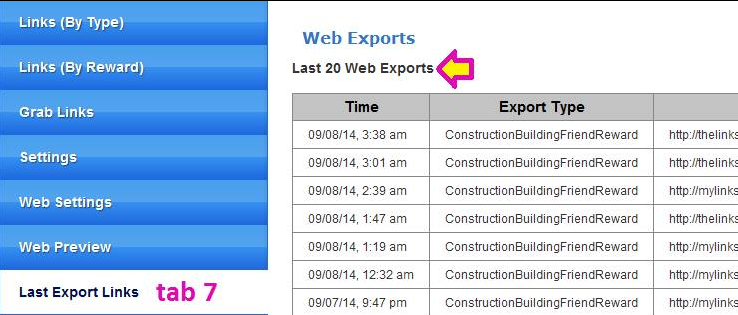 ---
TAB 8 lets us share links on a virtual wall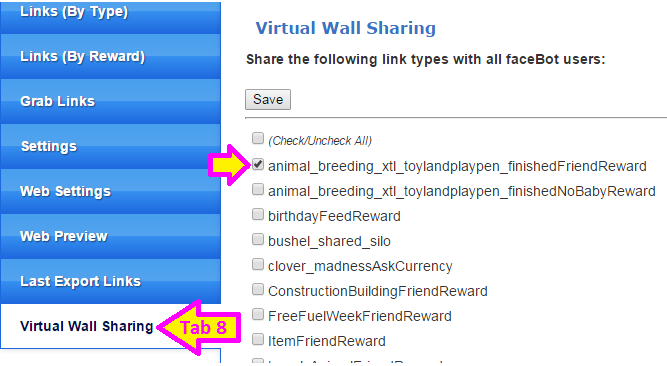 we mark the items (by type) we want to share, and only those specific type of items will get shared

these specific links then go to the virtual wall pool, and from there can be grabbed by the virtual wall grabber by users who choose to collect them.
---

 Enjoy sharing, with ease, efficiency, and beautiful page