Nih_MoneyTree will harvest all your Money Trees or other buildings on different farms in one cycle.
1) Basic Setup

First add codes of buildings to harvest to the white field and exclude farms to visit, if needed:
Codes for Money Trees, Instagrow Fountain (on Hanging Gardens), Cash Cow and Cash Calf:
moneytree
xasmoneytree
instagroFountain
cashcow
cashcalf
xfhmoneytree
xhmmoneytree
xinmoneytree
xjpmoneytree
xngmoneytree

Additional codes for buildings you might need (amextree = Serve Money Tree):
ever_growing_beanstalk
amextree
ferriswheel2012
ferriswheel2012_exp1
ferriswheel2012_exp5
bumpercar2012
bumpercar2012_exp1
bumpercar2012_exp5
windmill2012
windmill2012_exp1
windmill2012_exp5
bigbarnyard2012
bigbarnyard2012_exp1
bigbarnyard2012_exp5
moneybush
moneyplant

Items you might get when harvesting feature buildings:
Ferris Wheel: Mystery Game Darts
Bumper Cars: Turbo Chargers
Big Barnyard: Raffle Tickets
Big Windmill: Unwither
Codes for buildings to harvest have to match the building code on your farm, like for example this:
babybunnyhutch_finished
animal_breeding_playpen_finished
If unsure find codes in FV_Farmer – Buildings tab or here: http://www.fvitems.com/
To determine if you have a building or not, use FV_WheresMySh1t. Search for example bigbarnyard to see on which farm it is and which is correct code.
Step 1) only needs to be done ONCE per account, except if you want to change building list/farms.
---
2) Update Info and Harvest

After setting up your list, hit this button to save:

Then let Nih_MoneyTree run a cycle to build up info. Nih_MoneyTree will cycle through all your farms and search for all buildings in list: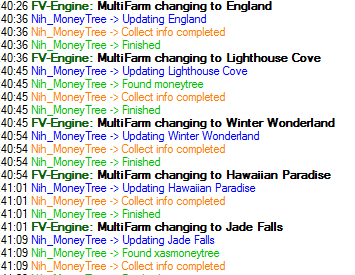 This might take a while. After refreshing plugin page you will find all the building's info:

---
If you harvest your items with Nih_MoneyTree only, not ingame, not with other plugins, the updating only has to be done ONCE. If you do harvest them otherwise though, the plugin (V 3.6 and higher) will automatically rebuild all your info.
So best is to uncheck the buildings you harvest with Nih_Moneytree in FV_Farmer, like this:

If needed, let NIH_MoneyTree run a second cycle to harvest ripe buildings on all farms.
---
Troubleshooting and Tipps on usage
If there's problems make sure you got a) the right building codes listed in settings and b) then hit save buildings button to rebuild info (= Step 2).
This button:  you normally can ignore. Save buildings-button will also clear the ID_state.txt (meaning, building info of your farms is cleared and has to be collected again by running another cycle).
Nih_MoneyTree is mostly used to harvest buildings where you only got few or 1 on many farms (like Money Trees) in one cycle, so it saves you the switching through all these farms. To harvest lots of ordinary buildings, use FV_Farmer.
It doesn't matter which farm is checked in FV_Settings. Nih_MoneyTree will switch through all your farms checked inside plugin in one cycle.
If you got issues or conflicts with other plugins, let Nih_MoneyTree run without any other plugins activated in cycle.