The plugin buys items from market and keep in giftbox. It can be used to buy hundreds of same item and keep in giftbox.
NOTE: The plugin will use CASH or COIN to buy the selected items depending of the ITEM'S PRICE on MARKET. Be Careful setting the plugin when using it to buy and keep CASH ITEMS in GIFTBOX
How to Use the Plugin
To use the plugin, you need to find itemname of the item you want to buy. You can find the code in codes sites or using plugins like fv_wheremysh1t, fv_xml. Examples of itemnames are cherry(cherry tree), pegacorn_music (itemname for music pegacorn).
Put the itemname in the box
How Many to buy – Set how many you want to buy in one run
Select How Many Iterations – Set how many times  you want to buy that amount.

Usually Set 1

If you set 2 in the ITERATION box and 100 in HOW MANY TO BUY box, the plug will buy 100 in one cycle and 100 in another cycle. So 200 total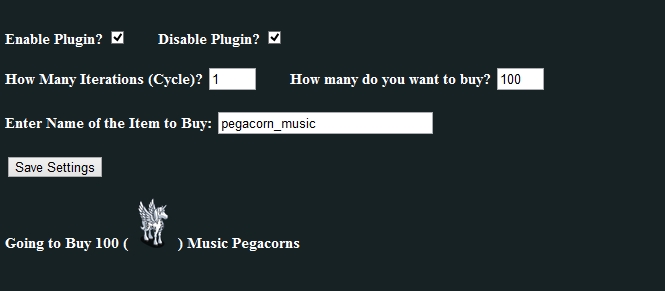 Once you set settings, tick
RUN

and

DISABLE PLUGIN

(or the plug will keep buying same amount in every cycle)

WORKING LOG