If you got a popup saying "Update Server Currently Down" in most cases means you just can't reach servers with bot.
Down for everybody or just me? Go to http://updates.facebot.org to check. If you see a message saying "This is just a placeholder for a Page", servers are up and running.
---
First make sure you don't have proxies running in background like Hotspot Shield etc.
Also some Antivirus Programs require to set exceptions / exclusions for facebotExtreme folder (do NOT turn off Antivirus completely to run bot). Check here for some help on how to set exclusions.
In most of cases malware is blocking your bot from access.
If you can, run Malwarebytes Scanner to clean the malware off your system first. It is free and the one we have the most success with. Other malware removers a lot of time install malware rather than remove it.
Second check your Program/Features in control panel and see if any software is installed by Conduit. This is the one that is most frequent lately.
Finally goto Internet Options in your control panel. If you don't see it, you'll want to go to the upper right hand of your control panel and view by Large Icons. In Internet options there is a tab called Connections. At the bottom is a button called LAN settings. Click it.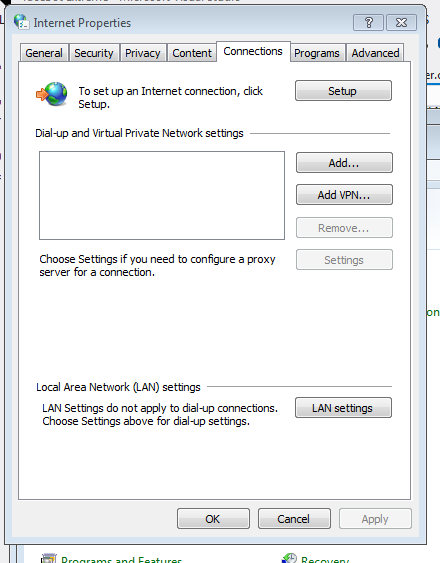 From there make sure "Use a Proxy Server" is not check marked: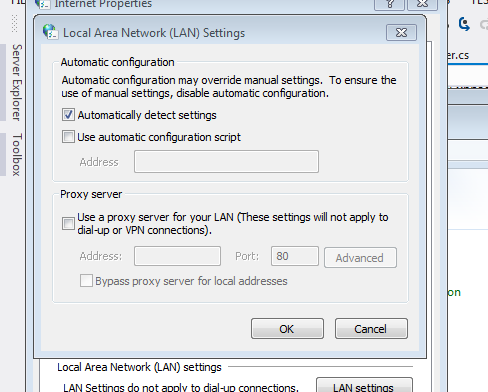 Make sure you have rebooted your machine after all this and fBX should run fine without the error.
If not, try booting your windows into safe mode, disable proxy in Internet Options (if still set) again, then run malwarebytes another time. If still there, please come to support Chat, sometimes there are people around who could help.