What does this Plugin do?
Accepts all requests of friends you get in the INBOX-popup right before entering your game.
Normally your GiftGrabber will look like this: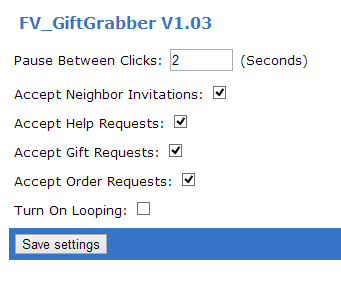 Uncheck the Requests you do not want to accept. The different types are:
Invitations to become Farmville Neighbor with someone (limit is 300 max)
Help requests for items, quests etc.
Gifts your friends are sending you like Special Deliveries etc.
Order requests for Trading Post
---
A Note on Looping
FV_GiftGrabber will try to clear out envelope, accepting 10 Gifts a take. Rarely you want it to loop and don't stop but check for more, continuously in cycle, then you could use looping for that.
Watch looping and turn it OFF again once all gifts are accepted (bot will never stop, need to stop manually). Also turn looping OFF if you want to use FV_GiftGrabber in combination with MaterialLinkOR!